Over many years RASAC has contributed funds to assist APY communities and its members, providing a range of community sponsorship and donations to support community activities on the APY Lands.


Sports Team Sponsorship 
Background 
Each of the main communities on the APY Lands have a football team and a softball team (some communities have two of each team). These sports form a focus for the communities to be involved and active and should be encouraged as much as possible.
At times it is understood that the teams have difficulties in paying for their uniforms and travel to games in other communities. Through this policy, RASAC is aiming to support each team and therefore their communities with some assistance.


How the policy is to operate 
Sponsorship is only available where RASAC funds are budgeted for this purpose.
A maximum allocation of $1,500 per team applies.
To qualify the teams must be registered with and participating in the South Australian National Football League (SANFL) football and softball competitions on the APY Lands.
Once an allocation for a team is used, there will be no further sponsorship for that specific team.
Unused allocations from one team and/or community can be transferred to another team and/or community.
Sponsorship can only be used to assist in the purchasing of uniforms for the actual players, registration of teams, and/or assisting with the purchase of fuel to travel to games in another community.
It is up to each team to determine how they wish for their allocation to be used.
No money/cash is payable directly to team members. RASAC will pay the sponsored expenses direct to the provider (for example a fuel order to get fuel to travel to a game in another community).
Fuel will only be sponsored where the intended travel is in accordance with the SANFL published fixture.
RASAC will not be responsible for any expenses incurred where such expenses have not been approved beforehand.
RASAC may consult with, and will sometimes rely on the advice of, the GBMs, SANFL, Coaches, Captains, Community Chairpersons, etc in approving or not approving a sponsorship request. The final decision is that of the RASAC General Manager.
Requests for sponsorship are referred to the RASAC General Manager, or the person delegated by the General Manager.
Recipients of the sponsorship are to promote RASAC's contributions where they can.
Any unused sponsorship is not carried over to the next season.
Communities and teams should continue to organise BBQs or other fund raising for travel costs as RASAC money is not intended to fund all of the costs.
Communities and teams are also encouraged to continue to approach other organisations to assist with funding support.
Sorry Business 
During these difficult times RASAC assists with digging graves and providing some assistance with sorry camps.
People who have recently experienced the death of a family member and who cannot raise the funds, after all options have been tried, may be eligible to receive a basic funeral and related expenses through the Funeral Assistance Program run by the Department for Communities and Social Inclusion (DCSI). People unable to raise funds who are on a Centrelink benefit or have a low income, may be able to receive assistance with a basic funeral.
This is normally a cremation service, except in certain cultural circumstances. If the cultural requirements for a burial are not agreed families may elect to pay the difference between a cremation and a burial.
Funeral Assistance Program
APY Community Members needing assistance should:
For more information, download Funeral Assistance Program documents below:
Remote School Attendance Strategy (RSAS)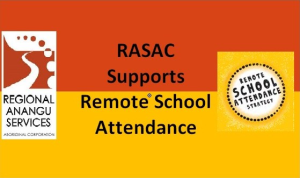 The Federal Government's Remote School Attendance Strategy, running in communities across the APY Lands, is encouraging parents to send their children to school.
RASAC supports the program's goal of encouraging families to get their children to school each day. To show our support, we are displaying this poster at our depots and are encouraging our workers who have school aged children to ensure they send their children to school.
This commitment from RASAC and our workers is in line with our organisational goal of improving long term employment outcomes for Anangu people.
APY Trade Training Centre Graduation 
RASAC is proud to sponsor the award for The Most Outstanding Anangu Secondary Student at the APY Trade Training Centre Graduation ceremonies at Umuwa.